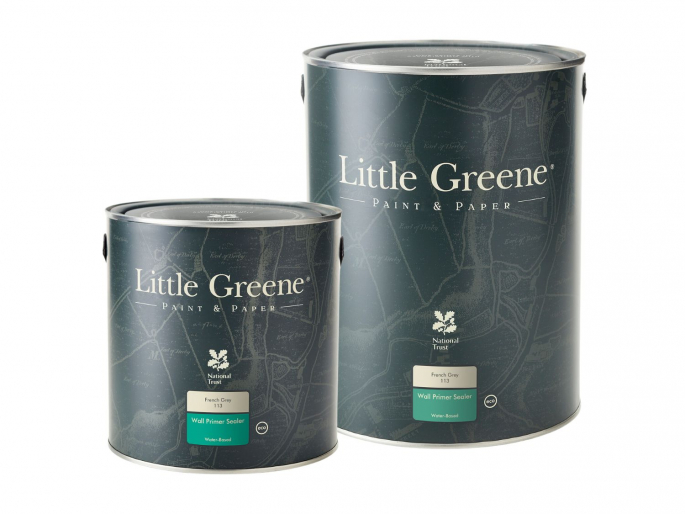 2,5 l / 5 l / 10 l
Mat (5% glans)
Omschrijving
De Wall Primer Sealer van Little Greene gebruik je voor nieuwe en ongeverfde wanden of plafonds. De watergedragen primer is in alle 196 kleuren van Little Greene beschikbaar. Door gebruik te maken van deze primer zorg je ervoor dat de wand minder verf absorbeert, hierdoor ontstaat er een super strak resultaat na het verven van de wanden of plafonds.
Specificaties
Droogtijd
Sneldrogend, stofdroog na 2 uur, overschilderbaar na 4 uur
Toepassing
Harsblokkerende primer voor onbehandeld zacht- en hardhout, zowel binnen- als buitenshuis
Rendement
13 m2 per liter, afhankelijk van de ondergrond
Ondergrond
Nieuwe, ongeverfde of onbehandelde wanden en plafonds
Verwerkingscondities
Ondergrond- en omgevingstemperatuur tussen 5°C en 30°C. Relatieve luchtvochtigheid maximaal 85%. De ondergrondtemperatuur dient minimaal 3°C boven het dauwpunt te liggen. Goede ventilatie.
Verwerkingsmethode
Synthetische kwast, verfroller of verfspuit
Airless spuiten
Verdunnen met maximaal 20% water. Tip grootte: 0,28 tot 0,54 mm (11 tot 21 thou). Tip druk: 12,6 tot 19,6 MPa (1800 tot 2800 psi).
Conventioneel spuiten
Verdunnen met maximaal 40% water. Tip grootte: 1,6 tot 2,0 mm (62 tot 78 thou). Luchtdruk: 0,28 tot 0,41 MPa (40 tot 60 psi).
Houdbaarheid
In onaangebroken verpakking minimaal 2 jaar houdbaar. Vorstvrij en uit direct zonlicht bewaren.
Beschikbaar in
2,5 l / 5 l / 10 l