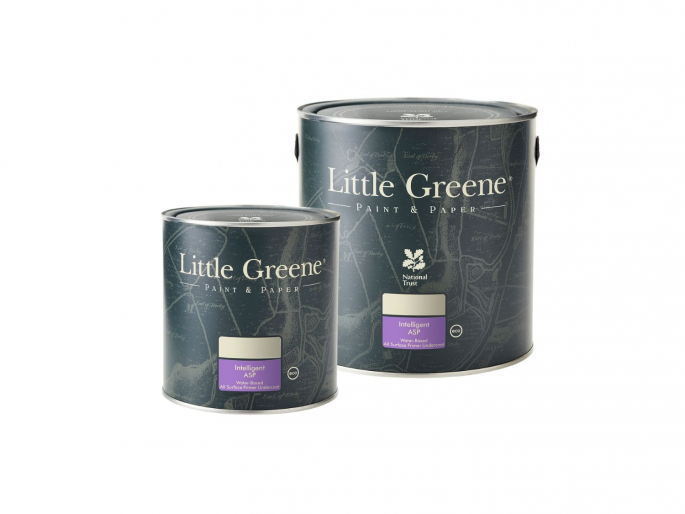 Intelligent ASP (All Surface Primer)
1 l / 2,5 l
Mat (6% glans)
Omschrijving
Deze robuuste primer én grondverf van Little Greene is de ideale start voor een mooie diepe kleur! De ASP is zowel binnen als buiten te gebruiken op diverse ondergronden zoals hout, metaal, keramische tegels of glas. Verkrijgbaar in alle kleuren van Little Greene.
Specificaties
Droogtijd
Sneldrogend, droog in 1 tot 2 uur, overschilderbaar na 2 - 4 uur
Toepassing
Multiprimer voor verschillende oppervlakten en onderlagen
Rendement
13 m2 per liter, afhankelijk van de ondergrond
Ondergrond
Nieuw hout (reeds behandeld met Aluminium Wood Primer en/of Intelligent ASP) Metalen (reeds behandeld met Intelligent ASP) Bestaande verfafwerking (kale plekken eerst behandelen met Intelligent ASP) Kunststoffen (reeds behandeld met Intelligent ASP) Nieuw
Verwerkingscondities
Ondergrond- en omgevingstemperatuur tussen 5°C en 30°C. Relatieve luchtvochtigheid maximaal 85%. De ondergrondtemperatuur dient minimaal 3°C boven het dauwpunt te liggen. Goede ventilatie.
Verwerkingsmethode
Synthetische kwast, verfroller of verfspuit
Airless spuiten
Verdunnen met maximaal 20% water. Tip grootte: 0,28 tot 0,54 mm (11 tot 21 thou). Tip druk: 12,6 tot 19,6 MPa (1800 tot 2800 psi).
Conventioneel spuiten
Verdunnen met maximaal 40% water. Tip grootte: 1,6 tot 2,0 mm (62 tot 78 thou). Luchtdruk: 0,28 tot 0,41 MPa (40 tot 60 psi).
Houdbaarheid
In onaangebroken verpakking minimaal 2 jaar houdbaar. Vorstvrij en uit direct zonlicht bewaren.
Beschikbaar in
1 l / 2,5 l